Pilates
---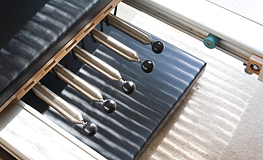 Pronounced (pe/la/tez): A series of exercises that are often done with special equipment.
The origin of Pilates was conceived in the 1920s by Joseph Pilates, a physical trainer. The purposes of the exercises were for rehabilitation. The first people to try Pilates were soldiers returning from war and dancers. This method of exercising helped to heal their injuries and strengthen their bodies.
Most classes start with the fundamental principles on the mat. As with STOTT PILATES™, the five principles of Pilates are breathing, pelvic placement, ribcage placement, scapular stability and mobility, and cervical (neck) placement. Once the principles are practiced along with the exercises, clients may then move on to the equipment of the Pilates repertoire, such as reformer, stability chair and cadillac, as well as barrels. All the equipment integrates with the matwork—one piece is not better than the other, rather they complement each other.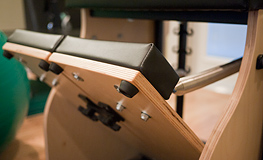 Rates and Classes Offered
The Essence of Movement offers classes for everyone. We have classes for the Beginner, the Elite Athlete, for Fascial Movement, Pre-natal, for those with joint replacement and for Osteoporosis. The Essence of Movement is a full service studio (Mat, Reformer, Cadillac, Chair and Barrels).
At The Essence of Movement we provide Private Classes designed for each individual .
Please see the calendar below for classes available.
The Essence of Movement offers classes for:
Postural Assessment one-time fee $120
Private mat/equipment – $95/class
Group Pilates Class – $25 per person per class
drop-in when permitted – $28 per person
To register for a private class, please contact the studio and indicate the type of class you are interested in.
Schedule of Pilates Classes
please note: there are no drop-in classes at The Essence of Movement
If you are interested in another class please contact the Instructor.»
© Copyright 2011 - The Essence of Movement | Yoga and Pilates in Sechelt BC